To get more update join telegram : Telegram: Contact @secuhex
---

Advanced Date Time Calculator
Trisun Advanced Date Time Calculator is a full-featured date time calculator. It includes 6 main functions: calculating the date and time by adding/subtracting a certain number of years, months, weeks, days, hours, minutes and/or seconds from a given date. All the above results are instantly shown after changed any conditions, do not need to click any button such as , . Also, it supports thousands separator and decimal in all numeric fields (years, months, weeks, days, hours, minutes, seconds, days of the week, weekdays and weekends).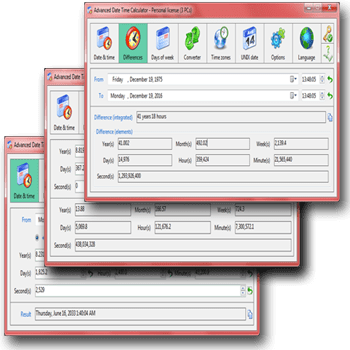 Key Features:
Get Result Time by Adding/Subtracting
Get Differences between Two Times
Count Days of Week, Weekdays, and Weekends
Do Convert between Various Time Elements
See Times for All Time Zones in the World
Unix/Linux Date Calculator
See Results Instantly
Supported OS: Windows 2003/7/8/8.1/10, 32 & 64 bit
How to get the TriSun Advanced Date Time Calculator license key for free?
Step 1 → Click HERE to get the free TriSun Advanced Date Time Calculator license key
Step 2 → Download TriSun Advanced Date Time Calculator –> click here
Step 3 → Install on your PC
Step 4 → Activate with license key you got from
HERE
Step 5 → Enjoy it!
Terms
This is a 1-year license for Advanced Date Time Calculator v12.2
Non-commercial use
You get free updates within one year
No tech support
Register before this offer has ended
---
HIT THE LIKE BUTTON DUDE
Post was made by @Darth_Vader on

2021-07-28T07:32:00Z
DISCLAIMER : No Copyright Infringement Intended, All Rights Reserved to the Actual Owner.
This content has been shared under Educational And Non-Profit Purposes Only.
For Copyright Content Removal Please Contact the Original Poster (OP)
Secuhex have no control over the shared content and nature of the external sites.