To get more update join telegram : Telegram: Contact @secuhex
---
PDF to Text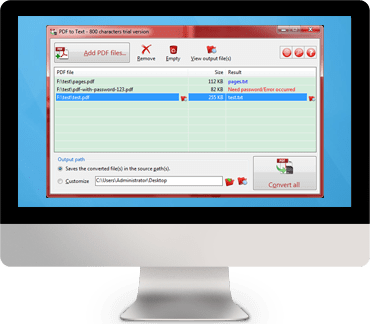 Converts PDF to plain text file in batch mode.
Fast, accurate, small, and friendly interface.
Retains original text, format, and layout (as much as possible)
in the output files.
Converts all pages of a PDF into ONE plain text file.
Supports converting the PDF files that have any restrictions, such as
"Content Copying" and "Saving as Text" are not allowed.
Supports system level context menu.
Supports Command Line Interface (CLI).
Video Tutorial for
→ How to use PDF to Text? - YouTube(Not by me)
How to get the license key and activate Trisun PDF to Text?
Go to GIVEAWAY PAGE and copy the license key.
Download setup file from HERE
Install and Use key.
Enjoy for 1 Year.
Terms and Conditions
This is a 1-year license
Non-commercial use
You get free updates within one year
No tech support
Register before this offer has ended
---
HIT THE LIKE BUTTON
Post was made by @Darth_Vader on

2021-08-01T09:08:00Z
DISCLAIMER : No Copyright Infringement Intended, All Rights Reserved to the Actual Owner.
This content has been shared under Educational And Non-Profit Purposes Only.
For Copyright Content Removal Please Contact the Original Poster (OP)
Secuhex have no control over the shared content and nature of the external sites.